Suicide bombing at Indonesian police station kills two, several injured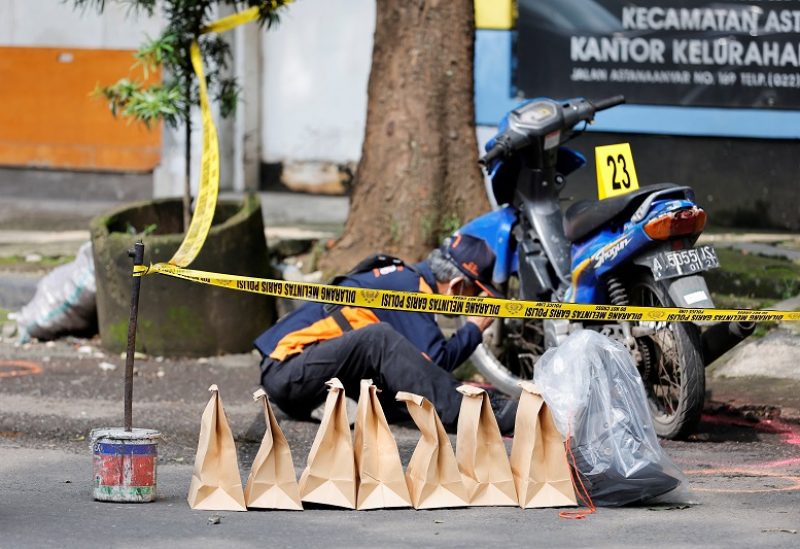 A man riding a motorcycle and carrying a knife blew himself up after entering a police station in West Java's Bandung city on Wednsday, which led to the killing of two people and several injured, among those killed is a police officer.
Six police officers and a civilian were injured in the attack and rushed to a nearby hospital.
The police suspect this to be a case of terrorism and have sought help from the counter-terrorism unit to investigate the incident, Ahmad Ramadhan, head of the public information bureau for the National Police, said.
Lola media reported damage to the entrance of the Astana Anyar police station, and roads closed in the area and smoke rising from the scene. Videos surfaced on social media showed have police presence at the site.
Terdengar Bunyi Ledakan di Polsek Astana Anyar, Kota Bandung.
"It is true that today at 8.20 am (local time), there is a suspected suicide bombing at the Astana Anyar police station, in Bandung," he said in a YouTube broadcast.
Though no one has claimed responsibility for the attack yet, officials believe that the Islamic State-inspired Jamaah Ansharut Daulah (JAD) terrorist group may have been behind the attack.
Ibnu Suhendra of Indonesia's counterterrorism agency (BNPT) told Metro TV that the JAD has carried out similar attacks in Indonesia in the past.
Indonesia created a tough new anti-terrorism law in 2019, after suicide bombings linked to JAD.
Last year, two attackers, who pledged allegiance to the Islamic State group, blew themselves up outside a packed Roman Catholic cathedral during a Palm Sunday Mass on Indonesia's Sulawesi island, killing the two attackers and wounding at least 20 people.