Time to invite Ukraine into NATO, Zelensky tells Stoltenberg in Kyiv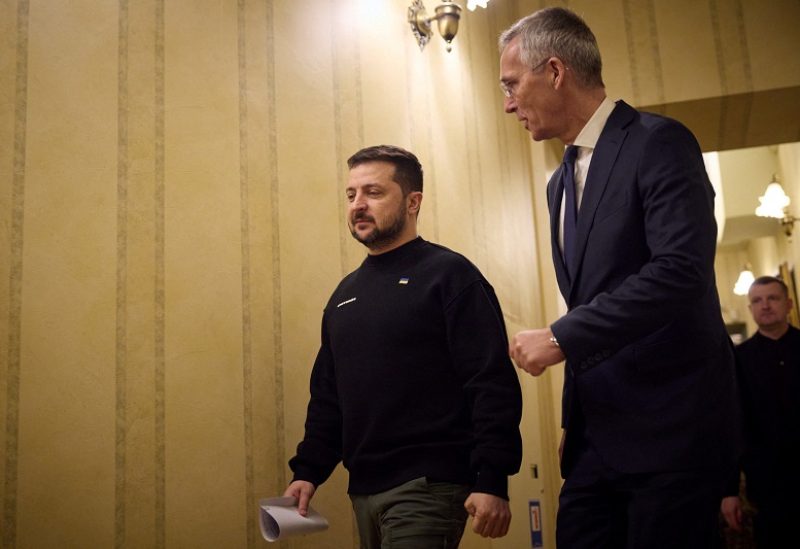 Ukrainian President Volodymyr Zelensky again pressed NATO to invite Kyiv to join the alliance, as he met NATO Secretary General Jens Stoltenberg who was in Kyiv on Thursday, and reiterated the military alliance's commitment towards Ukraine in its war against Russia. Zelensky also stressed upon the need to send more fighter jets and long-range weapons as battles with Russia raged on in the east of the country.
Zelensky and Stoltenberg spoke at a joint press conference during the latter's his first visit to Ukraine since the start of Russia's invasion in February 2022.
Zelensky expressed frustration that the West hasn't given it any guarantees or a timeframe for its NATO membership. He said that Russia's invasion justifies its request to join the alliance even more.
Meanwhile, the NATO chief said that Ukraine's future lies in NATO. "Let me be clear: Ukraine's rightful place is in the euro-Atlantic family. Ukraine's rightful place is in NATO. And over time, our support will help you to make this possible," Stoltenberg told reporters during a joint press conference with Zelensky in Kyiv.
He added that the alliance's priority was to ensure Ukraine "prevails" in the war against Russia. He added that a membership plan for Kyiv will be discussed at a summit to be held in Vilnius in July.
He said "the issue of membership" of Ukraine will be "high on the agenda" at a NATO summit in Vilnius this summer
Zelensky said at the press conference that the NATO summit in July "could become historic" if Ukraine was formally invited to join.
"It is time to take the appropriate decision," Zelensky said.
He also stressed that the "majority of people in NATO countries and the majority of Ukrainians support the entry of our country into the alliance."
Meanwhile, Moscow has been against Ukraine's NATO membership and sees it as an existential threat.
As Stoltenberg visited Kyiv, Ukrainian troops were fighting to keep control of Bakhmut, whose situation is becoming increasingly dire.
Amidst this, Zelensky urged NATO to "overcome the reluctance" of some member states in providing long-range rockets, modern fighter jets and armoured vehicles to Kyiv.
NATO members have sent some Soviet-era fighter jets to Ukraine, but modern planes such as the US-designed F16 remain elusive.
The West has been reluctant to send long-range rockets because of concerns that Ukraine could use them to hit targets within Russia.