Trump to fly to New York for court surrender amid tight security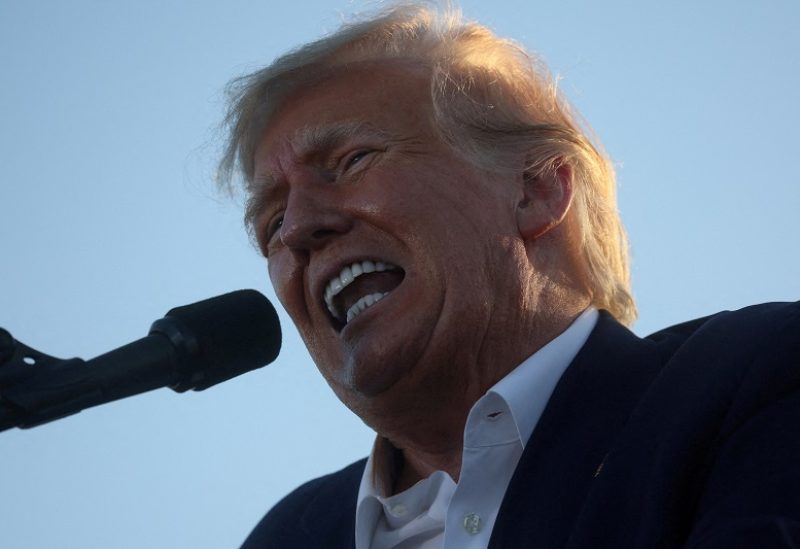 Ahead of his scheduled arraignment related to hush money paid to a porn star before the 2016 election, former US President Donald Trump is set to fly from Florida to New York City on Monday.
Trump, the first former US president to face criminal charges, is due to be arraigned, fingerprinted and photographed at the downtown Manhattan courthouse on Tuesday. His lawyers have said he will enter a plea of not guilty.
The specific charges included in the grand jury indictment have not been disclosed; Tuesday's arraignment marks Trump's first appearance in court and in front of a judge in the case.
The Republican businessman-turned-politician plans to travel from his Mar-a-Lago estate in Palm Beach midday on Monday, arriving later in the day in New York and spending the night at Trump Tower in Manhattan before arriving at the courthouse on Tuesday morning, an adviser said.
A court official said the arraignment is planned for 2:15 p.m. (1815 GMT) on Tuesday. Trump then will return to Florida and deliver remarks at Mar-a-Lago at 8:15 p.m. on Tuesday (0015 GMT on Wednesday), his office said.
New York police during the weekend began erecting barricades along the edge of the sidewalks around Trump Tower and the Manhattan Criminal Court building downtown, and some other courtrooms will be cleared.
Demonstrations are expected at those sites and police vowed to be prepared. "Officers have been placed on alert and the department remains ready to respond as needed and will ensure everyone is able to peacefully exercise their rights," the New York Police Department said in a statement.
Other courtrooms on the courthouse's higher floors will be shut down ahead of the arraignment as part of the security precautions, a court official said.
US Representative Marjorie Taylor Greene tweeted an invitation on Sunday to join her at a protest near the courthouse on Tuesday, saying "They're not coming after President Trump, they're coming after us, he's just in their way."
TRUMP LAWYERS HOPE TO DISMISS
Before the indictment, the grand jury heard evidence about a $130,000 payment to adult film actress Stormy Daniels in the waning days of the 2016 presidential campaign. Daniels has said she was paid to keep silent about a sexual encounter she had with Trump at a Lake Tahoe hotel in 2006. Trump denies the affair.
Trump, 76, served as president from 2017 to 2021 and in November launched a bid to regain the presidency in 2024, aiming to deny Democratic President Joe Biden a second term in office.
Word of the indictment, arising from an investigation led by Manhattan's Democratic district attorney, Alvin Bragg, surfaced last Thursday. Trump has called himself innocent and he and his allies have portrayed the charges as politically motivated.
Joe Tacopina, a Trump lawyer, said on Sunday he expects more details surrounding the arraignment to be resolved on Monday and noted that the Secret Service, which protects former presidents, also has a role to play on Tuesday. Tacopina said it was unlikely there will be a "perp walk" — perp being shorthand for perpetrator — in which an individual who has been charged is paraded in front of the news media, because of security concerns.
Tacopina added that Trump's lawyers will "dissect" the indictment once it is made public and will look at "every potential issue" to challenge, adding that he anticipates at some point making a motion to dismiss the charges.
"I honestly don't know how this is going to go — hopefully as smoothly as possible — and then we begin the battle to right this wrong," Tacopina told CNN's "State of the Union" program, speaking about the arraignment.
Trump is expected to appear before Justice Juan Merchan, the judge who also presided over a criminal trial last year in which Trump's real estate company was convicted of tax fraud. Trump himself was not charged in that case.
A court official said on Sunday that the judge has asked both sides to submit their positions on whether cameras and video should be allowed in the courtroom and will decide on the issue on Monday.