Turkey's Erdogan says he is 'more optimistic than ever' for the purchase of US F-16s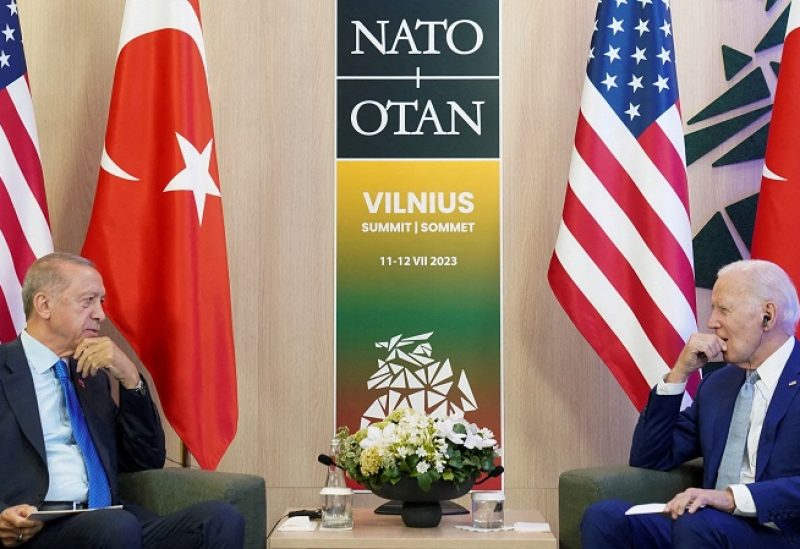 According to state news agency Anadolu, President Recep Tayyip Erdogan of Turkey expressed his increased optimism on Wednesday regarding the potential purchase of F-16 fighter jets from the United States. He stated that he is hopeful that ongoing talks with Washington will lead to positive outcomes.
Erdogan had met US President Joe Biden on Tuesday on the sidelines of the NATO summit in Vilnius, where the two discussed defense and economic priorities. The White House said the two discussed efforts to strengthen bilateral cooperation, and also discussed regional issues of shared interest, including their enduring support for Ukraine and the importance of preserving stability in the Aegean.
After the meeting, Erdogan said Turkey was "starting a new process" with the US, Anadolu reported. He said that he believes it is time for consultations at the heads of state level with the US as part of the strategic mechanism. "I consider this meeting as the first step towards that," he added.
White House national security adviser Jake Sullivan said on Tuesday: "Biden has been clear and unequivocal for months that he's supported the transfer of F-16s to Turkey, that this is in our national interests. It's in the interests of NATO that Turkey get that capability."
He emphasized that the Biden administration will move ahead with the fighter jets sale: "He has placed no caveats or conditions on that in his public and private comments over the past few months. And he intends to move forward with that transfer in consultation with Congress."
Turkey's pursuit of billions of dollars' worth F-16 deal has encountered delays due to opposition from Congress which has expressed concerns over Ankara's human rights record and contentious foreign policy such as in Syria, despite Biden's administration expressing support for the sale.
The potential sale of F-16 fighter jets to Turkey is seen as an attempt to bolster their aging fleet while maintaining NATO interoperability, without jeopardizing the security of the advanced F-35 technology.