Ukraine faces power cuts after Russian strikes, more flee Kherson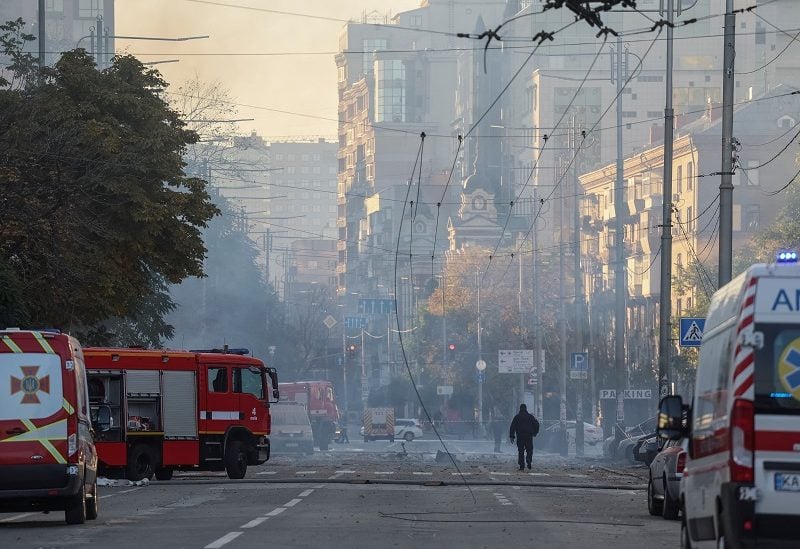 More than a dozen Russian missiles targeted Ukraine's critical infrastructure on Saturday, according to the Ukrainian air force, with numerous regions reporting strikes on energy facilities and power outages.
In Kherson, a Ukrainian city under Russian occupation, authorities advised residents to leave right away, citing what they described as a severe military scenario as Ukraine's soldiers advance.
Ukrainian President Volodymyr Zelenskiy wrote on the Telegram app regarding Russian attacks on infrastructure that began overnight: "The enemy launched a massive attack: 36 rockets, most of which were shot down,"
The air force command earlier had said 33 missiles had been fired at Ukraine on Saturday morning, adding that 18 of them had been shot down.
Since Oct. 10, Russia has launched a series of devastating salvos at Ukraine's power infrastructure, which have hit at least half of its thermal power generation and up to 40% of the entire system.
Shortly after daybreak on Saturday, local officials in regions across Ukraine began reporting strikes on energy facilities and power outages as engineers scrambled to restore the network. Governors advised residents to stock up on water in case of disruptions to supply.
Parts of Kyiv suffered power cuts stretching into the early evening. In one central area of the capital, shops were closed and traffic lights were off, leaving motorists to navigate busy junctions by themselves.