Ukraine's Zelensky visits Poland as allies step up military aid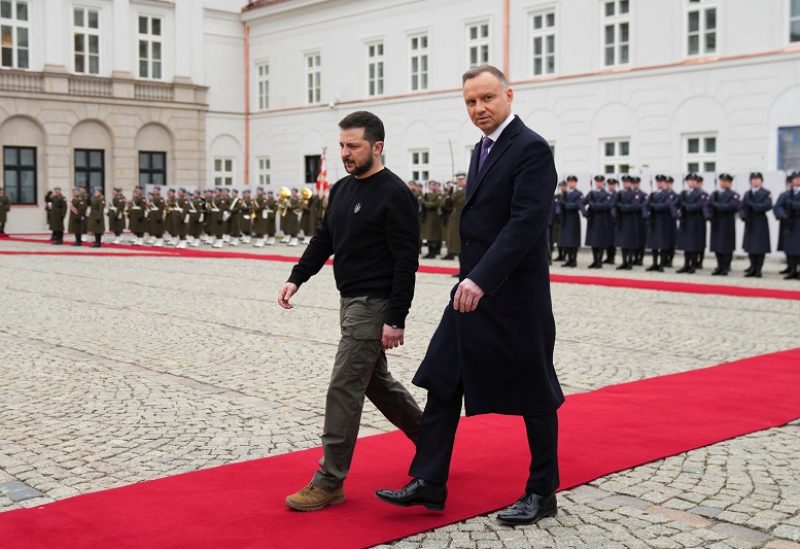 As Ukrainian President Volodymyr Zelensky arrived in neighboring Poland on Wednesday on an official visit, the United States has announced a new package of weapons and other military equipment for Ukraine, where Russian troops pressed on with their long and costly battle to seize the eastern city of Bakhmut. Poland which is considered a close ally that has taken in millions of Ukrainian refugees and provided vital weaponry to the Kyiv government.
French President Emmanuel Macron was due in China after he and US President Joe Biden agreed they would try to engage Beijing to hasten the end of Russia's assault on Ukraine, now in its second year.
The United States on Tuesday pledged $2.6 billion more in military assistance for Zelensky's government, including three air surveillance radars, anti-tank rockets and fuel trucks. The United States has now provided more than $35 billion in military aid to Ukraine since the Russian invasion.
Moscow's embassy in Washington accused the United States of wanting to drag out the conflict as long as possible, Russian news agency TASS said.
The new US aid package comes as Ukrainian forces prepare to mount a counteroffensive in the east against Russian forces, although when exactly it might kick off has not been disclosed.
The battlefield focus remained on Bakhmut, a mining city and transport hub on the edge of a chunk of Donetsk province largely under Russian control. Both sides have suffered huge casualties and much of the city has been reduced to ruins after months of street fighting and bombardments.
Bakhmut's fate was unclear on Wednesday morning after Russian forces said at the weekend they had captured the city center — a claim dismissed by Kyiv.
Near the town of Niu-York, 50 km south of Bakhmut, Ukrainian soldiers in muddy dugouts described repelling Russian attacks on a daily basis.
"They creep in, fire and try to exhaust us. Then they evaluate the situation and can move forward for a little more," commander of infantry unit, who gave his nom-de-guerre as "Bodia" told Reuters.
"Meanwhile, we try to let them get closer to us so that we can hit them more precisely."
Ukrainian military commanders have stressed the importance of holding Bakhmut and other towns and inflicting losses prior to the anticipated counteroffensive.
The Ukrainian general staff said in a report: "In the Bakhmut sector, there was no letup in enemy actions aimed at storming the city of Bakhmut. At least 20 enemy attacks were repelled here alone over the past 24 hours."
Reuters could not verify the battlefield reports.
MORE SUPPORT
In Warsaw, Zelensky was due to meet President Andrzej Duda and Prime Minister Mateusz Morawiecki and speak to Ukrainian refugees.
The Ukrainian leader crossed the border into Poland — which has played an important role in persuading other Western powers to supply battle tanks and other weaponry to Ukraine — on Wednesday morning.
"It will not be a surprise to anyone that the Ukrainian side will ask Poland and other foreign partners for more support… but we must be aware that we as Poland have already really done a lot," Polish presidential aide Marcin Przydacz said.
Przydacz said earlier that a first shipment of MiG fighter jets had already been delivered to Ukraine.
"MiGs from Poland will significantly strengthen our defense, allow us to make our skies safer, save the lives of our citizens and also reduce the destruction caused by Russian attacks," Ukrainian Defense Minister Oleksii Reznikov wrote on Telegram.
Separately, the Kremlin said Belarussian President Alexander Lukashenko would travel to Moscow on Wednesday for two days of talks with Putin.
Belarus is among Putin's strongest allies and was used as a launch pad for the Russian invasion in February last year. Putin said last month that Russia will station tactical nuclear weapons in Belarus.