US Navy says destroyer conducts navigational rights mission in South China Sea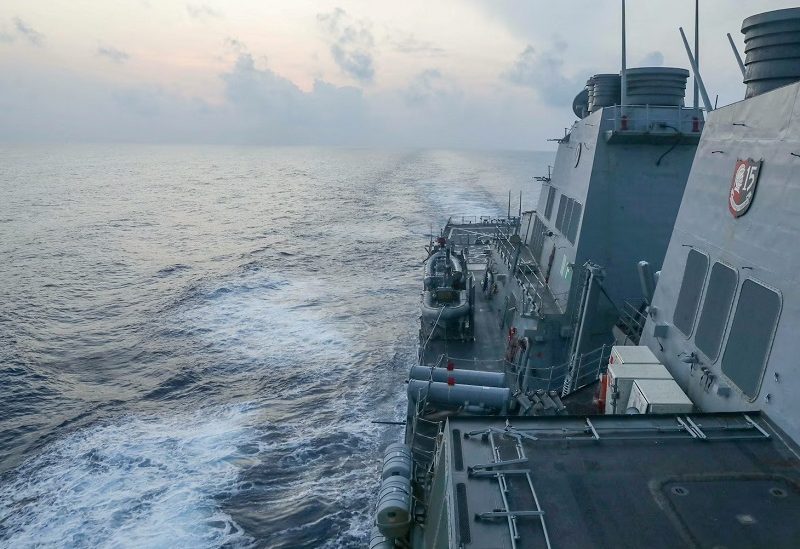 While China has condemned the "illegal" intrusion of the US warship, US Navy said its guided-missile destroyer the USS Milius sailed through waters claimed by Beijing in the South China Sea in a "freedom of navigation" operation on Monday.
The operation "upheld the rights, freedoms, and lawful uses of the sea," the Navy said in a statement.
The destroyer had "asserted navigational rights and freedoms in the South China Sea near the Spratly Islands, consistent with international law," it added.
After the operation, the Milius "exited the excessive claim area and continued operations in the South China Sea," it said.
According to the statement, the ship sailed within 12 nautical miles of Mischief Reef — about 1,400 kilometers (860 miles) from the southern tip of Taiwan's mainland.
"Missile destroyer USS Milius illegally intruded into the waters adjacent to the Meiji Reef in China's Nansha Islands without the approval of the Chinese government," Tian Junli, spokesman for the Chinese military's Southern Theatre Command, said in a statement, adding Beijing's air force "followed and carried out surveillance of the vessel."
About 1,300 kilometers (800 miles) away, Chinese fighter jets and warships are carrying out three days of military drills around Taiwan, including simulated strikes on the island.
The war games follow a meeting last week between Taiwanese President Tsai Ing-wen and US House Speaker Kevin McCarthy outside Los Angeles.
The exercises sparked condemnation from Taipei and calls for restraint from Washington, which said it was "monitoring Beijing's actions closely."
On Monday, Beijing said fighter jets carrying "live ammunition" had conducted "simulated strikes" near Taiwan and that its Shandong aircraft carrier was involved in the ongoing exercises.
China claims vast swathes of the area that overlap with exclusive economic zones of various countries, including the Philippines. Trillions of dollars in trade flow every year through the waterway.