Women head Sudan's protests calling for civilian rule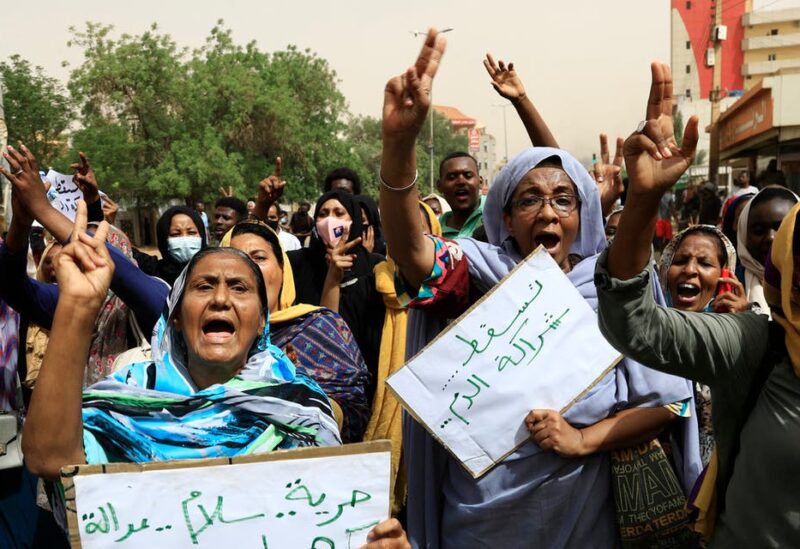 As Sudanese women have been on the frontlines of the Sudanese demonstrations since the outbreak of the protests on 19 December 2018, Hundreds of people continue protests in the Sudanese capital Khartoum for a third week in a row against a recent political deal between the prime minister and the military, calling for the handover of power to civilians, amid chants against Premier Abdalla Hamdok and the military.
Their participation had the greatest role in motivating the demonstrators in neighbourhoods and cities until the army leadership dismissed the former president of the country, Omar Al-Bashir, on 11 April 2019.
The presence of women in the demonstrations was embodied by the 22-year-old student, Alaa Salah, who in 2018 stood on the back of a car in front of the Army General Headquarters, where she addressed and sang to the crowds of protesters.
Lubna Abdel Latif told Anadolu today: "Conscious of their responsibilities, Sudanese women have always bravely stood at the forefront of the demonstrations."
Sudanese women's demands are to achieve a complete and undiminished civil state, the military council to step down from power, and peace to prevail throughout the country.
Student, Doha Abdullah, said the role of Sudanese women is very large in the demonstrations. "There is a belittling of the role of Sudanese women, but it has now been rebutted," said Abdullah.
She also said demonstrations usually start with the women's voice (Zaghrouda), and Sudanese women will remain patient and steadfast in the streets until the fall of any dictatorial regime that does not comply with the people's desire and ambitions.
The teacher Doaa Awad Hassan said, the injustice towards Sudanese women during the successive regimes was very great.
"Now, Sudanese women have had the opportunity to express their voice by participating in the demonstrations," said Hassan.Since October Sudan has witnessed protests against the measures taken by the army chief, Abdel Fattah Al-Burhan which included declaring a state of emergency, dissolving the Sovereignty Councils and Transitional Ministers, and dismissing Prime Minister Abdullah Hamdok, after the arrest of party leaders and officials, in what many have described as a "military coup".
According to medics, more than 40 protesters have been killed in protests since 25 October 25.
Hamdok was, however, reinstated on 21 November, under an agreement which protesters have rejected.