Yemen PM visits Marib in show of strength as Houthi assault falters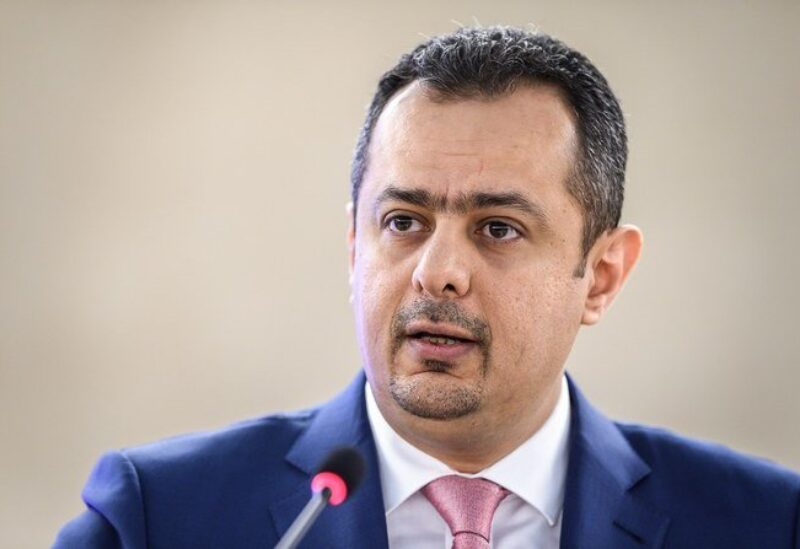 Yemen's prime minister Maeen Abdul Malik Saeed visited the battleground city of Marib on Wednesday in a show of strength amid growing signs that an Iran-backed Houthi militia offensive to capture the province is faltering.
Saeed chaired a meeting of senior government and military officials in the city, and said President Abed Rabbo Mansour Hadi had ordered increased military support to government troops fighting the Houthis.
"History is being written now in Marib. All of Yemen is following Marib and we came to Marib to be part of this important moment … the state and its capabilities are with you," the prime minister said.
Saeed said the government wanted a sustainable peace agreement that established a strong division between Yemen and Iran. "We are not begging for peace that establishes a fragile and racist state on Iran's model and its militias in the region," he said.
Marib Governor Marib Sultan Al-Arada said the Houthi offensive had triggered "huge" displacement as thousands of people fled the fighting. "Yemenis can never enjoy peace as long as the state's weapons are in the militia's hands," the governor said.
Marib is the Yemeni government's last bastion in northern Yemen, and has extensive oil and gas reserves. The Houthis are desperate to capture it as leverage in UN-brokered peace talks, but the government is equally determined to defend it.
Martin Griffiths, the UN envoy for Yemen, admitted on Wednesday that the warring sides were no closer to striking a deal to end the conflict despite extensive diplomatic efforts. "We have been discussing these issues for over a year now and the international community has been supporting us in full force," he said. "Unfortunately, we are not where we would like to be in reaching a deal. Meanwhile, the war continues unabated and causes immense suffering to the civilian population."
Ending a weeklong round of meetings in Riyadh and Muscat, Griffiths said his latest discussions focused on stopping the Houthi assault on Marib, easing restrictions on the Red Sea port of Hodeidah and reopening Sanaa airport.
"I will keep engaging all involved, concerned actors and stakeholders to offer them opportunities to find common ground to help advance the peace efforts," Griffiths said.
Officials with knowledge of the discussions told Arab News that the Houthis had refused to meet Griffiths and Tim Lenderking, the US special envoy for Yemen, for talks in Oman. Instead, the militia insisted on reopening Sanaa airport to unlimited destinations, including Iran, lifting restrictions on Hodeidah, and the complete cessation of Arab coalition air strikes before they would consider halting their offensive on Marib.
"We do not trust them — they have never adhered to any deal," a senior Yemeni official said. The official also said the Yemeni government would agree to open flights from Sanaa airport to India, Egypt, Jordan, and Sudan, and would lift restrictions on ships in Hodeidah, but it believed direct flights from Sanaa to Iran, Syria and Lebanon would enable the Houthis to transport weapons and fighters.