Zelenskyy in Helsinki for Nordic summit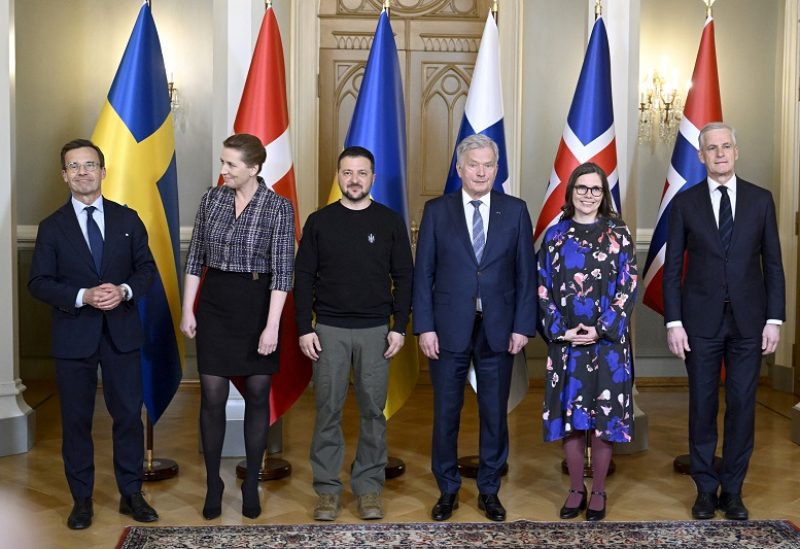 On Wednesday, Ukrainian President Volodymyr Zelenskyy attended a Nordic summit in Helsinki and emphasized the significance of NATO membership during the one-day event.
Zelenskyy met with four Nordic prime ministers at the gathering at the residency of Finnish President Sauli Niinisto. The leaders discussed support for Ukraine.
"The theme of the summit is Russia's war of aggression against Ukraine, the Nordic countries' continued support for Ukraine, Ukraine's relationship with the EU and NATO, and Ukraine's initiative for a just peace," Niinisto's office said.
Zelenskyy pressed for Ukrainian membership in NATO at the conference, saying the "aim is to have full NATO membership, that is one the reasons I am here."
Swedish Prime Minister Ulf Kristersson, Norwegian Prime Minister Jonas Gahr Store, Danish Prime Minister Mette Frederiksen, Icelandic Prime Minister Katrín Jakobsdottir and Finnish President Niinisto gathered in the Finnish capital for the meeting.
Finland, which shares an 830-mile (1,340-kilometer) border with Russia, formally joined NATO last month after decades of nonalignment.
Ukraine has denied any involvement in an attack on the Kremlin reported by Moscow, allegedly targeting President Vladimir Putin.
Ukraine presidential adviser Mykhailo Podolyak sent out a note to various media outlets, saying Kyiv had "nothing to do with the drone attacks on the Kremlin."
"We do not attack the Kremlin because, first of all, it does not resolve any military tasks," the Reuters news agency quoted him as saying.
Podolyak warned that Russia would use the attack "to justify massive strikes on Ukrainian cities, on the civilian population, on infrastructure facilities" in coming days, the Associated Press quoted him as saying.
He added to Reuters that the attack "clearly indicates the preparation of a large scale terrorist provocation by Russia in the coming days."
Russian officials said Putin was not in the Kremlin at the time of the attack.
Russia says it intercepted two drones sent to attack the Kremlin, accusing Ukraine on Wednesday of a failed attempt to kill President Putin.
"Two unmanned aerial vehicles were aimed at the Kremlin. As a result of time actions taken by the military and special services with the use of radar warfare systems, the devices were put out of action," the Kremlin said in a statement.
No one was reported injured or killed in the operation, according to Russian officials.
The Kremlin did not provide evidence from the reported incident, and the statement with the accusations did not include details on the alleged attack.
It added that Russia reserved the right to retaliate suggesting that it could use the incident to justify an escalation in its war in Ukraine.
State news agency RIA reported that Putin was not in the Kremlin at the time, and was working on Wednesday at his Novo Ogaryovo residence outside Moscow. Ukrainian authorities are yet to comment on the allegations.