Paraguay: Pro-Taiwan candidate wins presidential election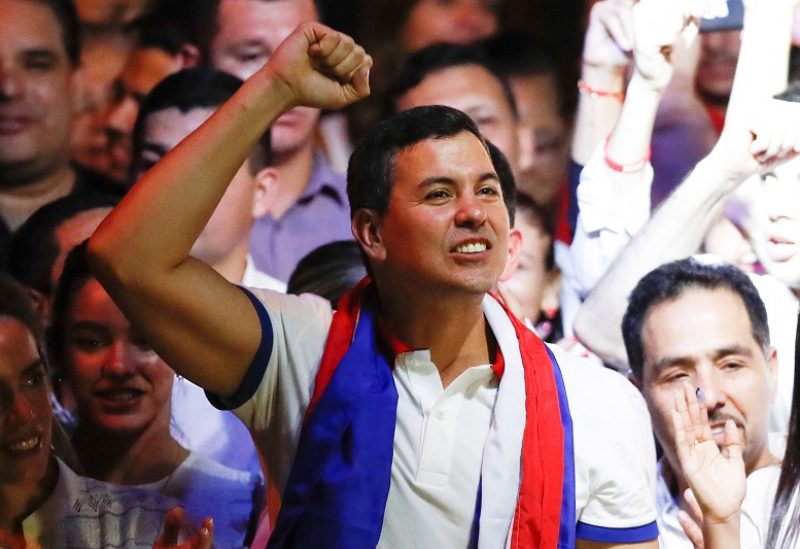 Election officials announced Santiago Pena, the candidate from the Colorado Party, as the winner of Paraguay's presidential election, making him the country's next president.
With over 95% of the vote counted, preliminary results showed Pena winning with 42.9%. His main competitor, center-left opposition candidate Efrain Alegre came in second place with 27.5%.
"Thank you for this Colorado victory, thank you for this Paraguayan victory," Pena said in a speech.
Sunday's presidential election was being watched closely to see if the ruling conservative Colorado Party could maintain its decadeslong hold on power.
Among other issues, the election was seen as a test of Paraguay's nearly 70-year-long ties with Taiwan, as some candidates offered to re-examine relations.
Taiwan's embassy in Paraguay congratulated Pena on his election win.
"We will continue to work on this fruitful relationship of prosperity partners," the embassy said in a short statement on its Facebook page.
Earlier, Alegre and Pena urged Paraguayans to vote as stations opened, a call that was echoed by outgoing President Mario Abdo Benitez, who is constitutionally limited to a single term.
Nearly 5 million people were eligible to vote in Sunday's general election — with voters choosing a new president, members of Congress and governors.
Election authorities put voter participation at over 63%.
Paraguay is one of just 13 nations to maintain diplomatic ties with Taiwan, which China claims as its own.
Most of Taiwan's biggest backers, including the US and Germany and all of NATO, hold formal diplomatic ties with China and not Taiwan. Beijing insists its potential partners to chose between it and Taipei.
In the midst of a slowing economy, opposition leader Alegre criticized this relationship, saying it has made it tough for the country to export soy and beef to China, a major global buyer.
Alegre also said that Latin America, which is a farm-driven economy, does not get enough in return from Taipei.
The Colorado Party's Pena, on the other hand, has vowed to maintain ties with Taiwan.
The Colorado Party has dominated Paraguayan politics since the 1950s and ruled for all but five of the last 75 years.
However, in recent years, the party has been hit by a poor economy and corruption allegations.
Alegre raised the Colorado Party's corruption issues at multiple election rallies.