Patriarch Minassian meets with Iranian Ambassador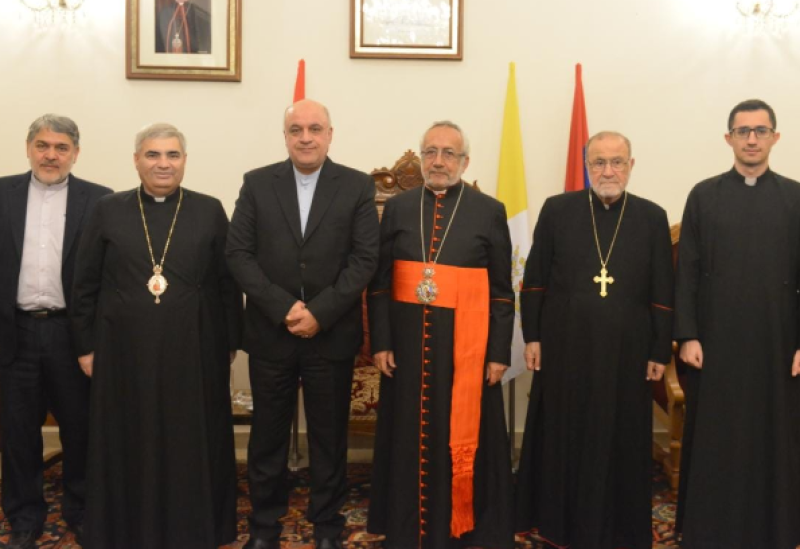 Catholicos of Armenian Catholic House of Cilicia, Patriarch Raphael Bedros XXI Minassian, met today with Iranian Ambassador to Lebanon Mojtaba Amani, in the presence of Beirut Archbishop George Assadourian, former Archbishop of the Armenian Catholic Diocese of Turkey George Khozomian, Father Aram Saadou Abrahamian and Public Relations Officer Charbel Bastouri, at the Patriarchate's headquarters in Beirut.
The friendly visit came within the framework of consolidating relations between the Patriarchate and the Iranian Embassy in Lebanon.
During the one-hour meeting, both sides discussed the relations between the Republics of Iran and Armenia, and Iran's support to Armenia in the various challenges it has faced.
The Armenian Catholic Church in Iran, its pioneering role and distinguished presence in the Iranian Republic also topped their discussions.
Additionally, talks touched on the Lebanese national aspect and "the repercussions of the presidential vacuum on the exacerbated daily living and economic crises in the absence of a regular government," hoping that "a new Lebanese President will be elected to avoid the heightened crises."
On the spiritual level, Patriarch Minassian and the Iranian ambassador affirmed that "Christians and Muslims are one family in these lands, and what unites them is greater than what separates them."