South Africa's anti-apartheid hero Tutu to lie in state at St. George's Cathedral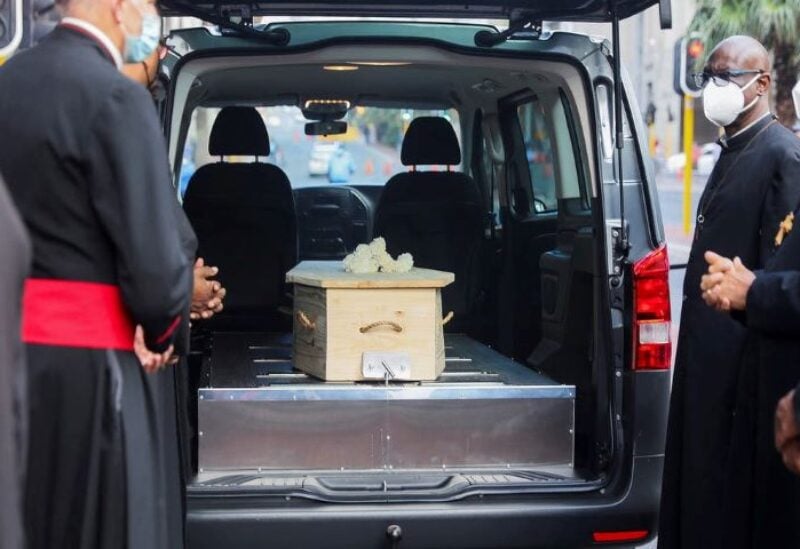 The remains of Archbishop Desmond Tutu, South Africa's anti-apartheid theologian, arrived at Cape Town's St George's Cathedral on Thursday morning, where it will lie in state for two days for mourners to pay their final respects.
Tutu, a Nobel Peace Prize laureate widely admired in South Africa across racial and cultural boundaries for his moral rectitude and uncompromising battle against white minority rule, died on Sunday at the age of 90.
His basic wood coffin with rope handles was brought into the brown stoned-walled chapel that served as a safe haven for anti-apartheid campaigners under the harsh white minority regime.
Emotional family members greeted the casket outside the church, where six black-robed clerics serving as pall bearers brought the closed coffin inside to an inner sanctuary.
The public will be able to visit Tutu's remains between 9 a.m. (0700 GMT) and 5 p.m. (1500 GMT) on Thursday and Friday, ahead of a requiem mass burial ceremony on Saturday, at which President Cyril Ramaphosa is slated to offer a eulogy.
Tutu's memorial ceremonies were also scheduled for Thursday in Johannesburg and Pretoria.
Tutu was awarded the Nobel Peace Prize in 1984 for his nonviolent fight to white minority power. A decade later, he watched the regime's demise and headed a Truth and Reconciliation Commission to investigate the crimes perpetrated during its reign.