Taliban say ban on Afghan women working for UN 'an internal issue'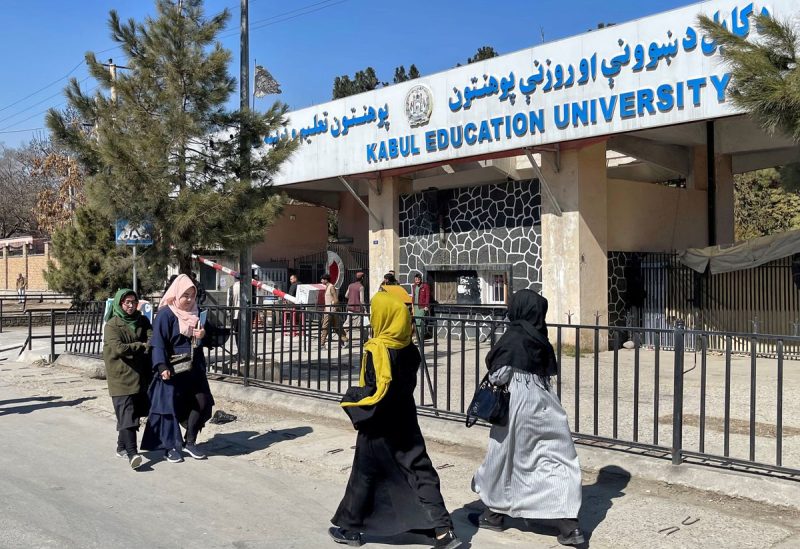 Taliban authorities said Wednesday, that the ban on Afghan women working for the United Nations was an internal issue, adding that the decision "should be respected by all sides."
Taliban authorities triggered international outrage earlier this month after extending a December ban on Afghan women working for non-governmental organizations to the UN.
"The Islamic Emirate does not want to create obstacles for the United Nations," Taliban government spokesman Zabihullah Mujahid said in a statement on Wednesday.
"Rather, it wants to make it clear that this is an internal issue of Afghanistan which does not create a problem for anyone and should be respected by all sides."
Under their austere interpretation of Islam, Taliban authorities have imposed a slew of restrictions on Afghan women since seizing power in 2021, including banning them from higher education and many government jobs.
The UN said Tuesday the ban was forcing it to make an "appalling choice" on whether to continue operations in Afghanistan.
The world body said it cannot comply with the ban as it was "unlawful under international law, including the UN Charter."
Mujahid, however, said there was no "discrimination" in the decision.
"On the contrary, considering the religious and cultural interests, we are committed to all the rights of our people."
The increasing curbs on women are reminiscent of the Taliban's first government between 1996 and 2001, when the UN said they were responsible for repeated human rights violations — particularly against girls and women.
Since the ban was announced, the UN has ordered all its Afghan staff — men and women — not to report to work until further notice.
Taliban authorities justified the December ban on the grounds they had received "serious complaints" that women were not observing the group's interpretation of Islamic dress codes.
Several NGOs suspended operations in the country in protest, piling further misery on Afghanistan's citizens — half of whom face hunger, according to aid agencies.
Mujahid said Afghans had the "capacity to stand on their own feet," but the country's problems were caused by sanctions and restrictions on the financial and banking system.
Soon after the Taliban's takeover, the United States seized roughly $7 billion in Afghan central bank assets.
"It is necessary that the member countries of the United Nations resolve the problem of freezing Afghan assets, banking, travel bans and other restrictions so that Afghanistan can progress in the economic, political and security areas," Mujahid said.