Two Dozen Cyclists Crash at Tour de France After Spectator Hits One With Sign – Video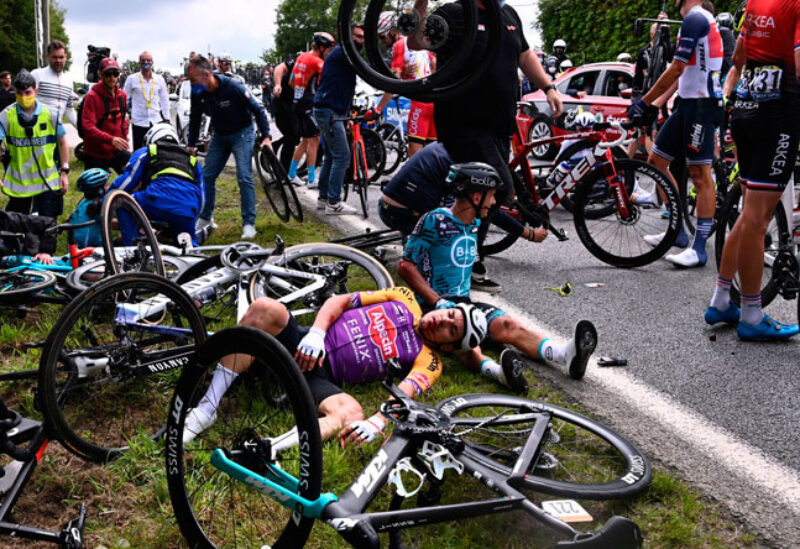 French world champion Julian Alaphilippe managed to avoid a pileup and come out on top during the first stage, while many of his fellow bicyclers suffered a nasty incident at the start of the race.
A man trying to wave a sign too close to the cyclists caused a massive crash during the first stage of Tour de France, with dozens of athletes colliding in a pileup. According to the news portal Cycling.com, German bicyclist Tony Martin was hit by a cardboard sign saying "Allez Opi-Omi!" (loosely translated as "Go, Grandpa!"), and then fell, breaking the peloton, with many members of his team Jumbo-Visma falling as well.
At least 21 cyclists are believed to have been injured as a result.
Later, another crash occurred just six miles away from the finish line.
The official Twitter account of Tour de France later addressed the incident on social media.
"We're glad to have the public on the side of the road on the #TDF2021", the post said. "But for the Tour to be a success, respect the safety of the riders! Don't risk everything for a photo or to get on television!"
In the meantime, the Amaury Sport Organisation (ASO) filed a complaint against the fan, who fled the scene after the crash, according to Ouest-France.
Per reports, Martin managed to re-join the competition despite the road rash, while Germany's Jasha Sutterlin had to withdraw due to injuries.