U.S. President Joe Biden meets with Britain's PM Rishi Sunak in Belfast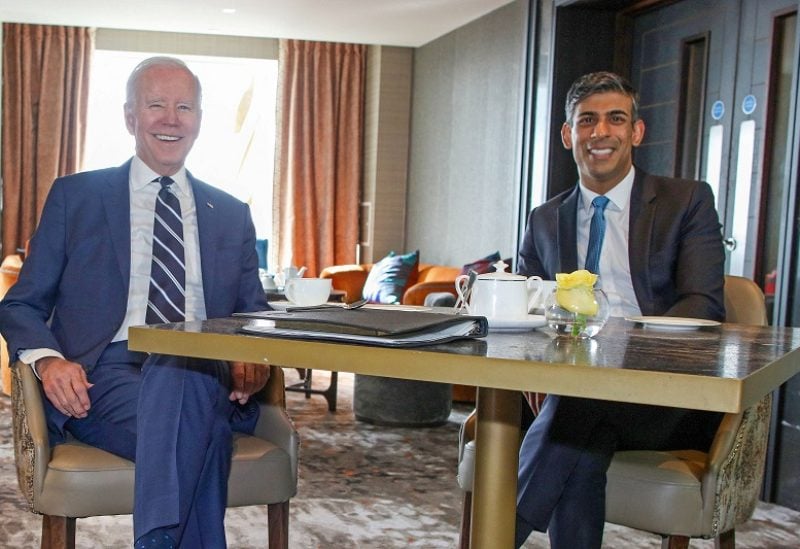 Marking the 25th anniversary of the Good Friday Agreement, US President Joe Biden kicked off his public schedule in Northern Ireland on Wednesday by arriving at Belfast.
The deal, which ended decades of sectarian violence that killed thousands, has faced testing times in recent years amid discord over post-Brexit trade arrangements and political instability in the province's devolved government.
Biden began his visit by meeting British Prime Minister Rishi Sunak over coffee on Wednesday morning.
"We spoke in particular about the incredible economic opportunities that are there in store for Northern Ireland," Sunak said afterwards.
"I know he shares my ambition to see institutions here back up and running, that's what people and businesses in Northern Ireland deserve."
The US President also met with the leaders of Northern Ireland's five main political parties. It is unclear if they held separate meetings.
"The message is twofold. It's congratulations on 25 years of the Good Friday agreement… (and) to talk about the importance of trying to work on trade and economic policies that benefit all communities as well as the United States," said White House National Security Council spokesperson John Kirby, who is traveling with Biden.
The Democratic Unionist Party (DUP), which has refused to participate in Northern Ireland's power-sharing government for more than a year in protest of trade rules that it says treat Northern Ireland separately from the rest of the United Kingdom, said Biden's visit will not pressure it to change tack.
Sammy Wilson, a DUP lawmaker who sits in the UK Parliament in Westminster, said in an interview on Talk TV that Biden "has got a record of being pro-republican, anti-unionist, anti-British."
"The track record of the president shows that he's not anti-British," Amanda Sloat, US National Security Council Senior Director for Europe, told reporters in Belfast.
"President Biden obviously is a very proud Irish American. He is proud of those Irish roots. But he is also a strong supporter of our bilateral partnership with the UK."
Security has been stepped up ahead of Biden's visit. On Tuesday, masked protesters threw Molotov cocktails at a police van in the city of Londonderry, also called Derry.