Ukraine's Zelenskyy visits embattled eastern regions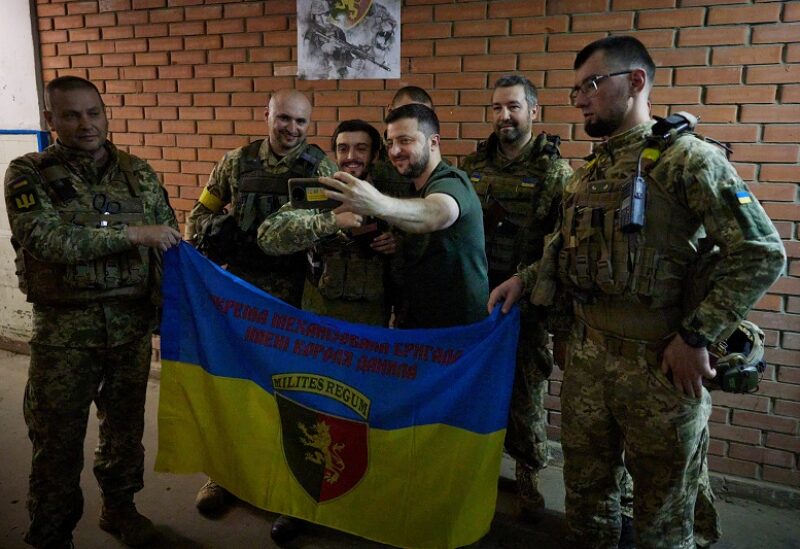 Ukrainian President Volodymyr Zelenskyy visited the Zaporizhzhia region and two towns near the front lines, Lysychansk and Soledar, he said in his nightly video address.
During his visit to Zaporizhzhia, he met with the head of the regional military administration, Oleksander Starukh, and national police in the region.
"I am proud of everybody I met, everyone I shook hands with, everyone with whom I connected with and had expressed my support," Zelenskyy said.
Starukh reportedly told Zelenskyy that nearly 60% of the territory in Zaporizhzhia region has been occupied by Russian troops as fighting continues. Seventy-seven villages in the region have seen their electricity cut, Starukh said.
Temporary shelters for those fleeing from nearby Kherson and Mariupol have also been set up. Zelenskyy urged local leaders to continue the flow of aid to those fleeing from elsewhere.
For its part, the UK said it will provide Ukraine with M270 multiple-launch rocket systems capable of hitting targets as far away as 80 kilometers (50 miles). The effort to supply Ukraine with multiple-launch rocket systems was coordinated with the US.
UK Defense Secretary Ben Wallace said Britain's support for Ukraine would evolve with Russia's changing tactics. Wallace added the new systems will "enable our Ukrainian friends to better protect themselves against the brutal use of long-range artillery."
Last week, the US said it would give Ukraine M142 High Mobility Artillery Rocket Systems known as HIMARS after Kyiv reassured the weapons would not strike targets inside Russia.