US tries to reassure allies after classified intel leak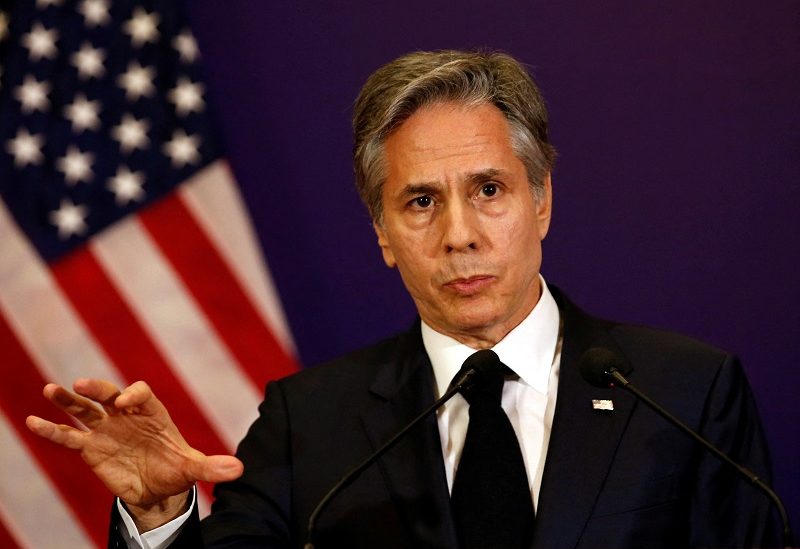 As Washington sought to reassure its allies after a leaked trove of highly sensitive documents surfaced online, US Secretary of State Antony Blinken and defense chief Lloyd Austin spoke with their Ukrainian counterparts on Tuesday.
"We have engaged with allies and partners at high levels over the past days, including to reassure them about our own commitment to safeguarding intelligence," Blinken told a news conference.
Blinken said he had spoken with his Ukrainian counterpart Dmytro Kuleba and "reaffirmed our enduring support for Ukraine and for its efforts to defend its territorial integrity, its sovereignty, its independence."
The breach reportedly includes classified information about Ukraine's battle against invading Russian forces, as well as secret assessments of US allies. Some of the most sensitive information is purportedly related to Ukraine's military capabilities and shortcomings.
Kuleba said earlier that Blinken had "vehemently rejected any attempts to cast doubt on Ukraine's capacity to win on the battlefield."
The Justice Department has opened a criminal investigation into the disclosure of the documents.
Austin, speaking alongside Blinken, said he had also talked to his counterpart in Ukraine, Oleksiy Reznikov.
"He and the leadership remain focused on the task at hand," Austin said, noting that "they have much of the capability that they need to continue to be successful."
According to Austin, the Pentagon was aware that leaked documents were dated February 28 and March 1, but was not sure if there were other documents that had been online before.
"We will continue to investigate and turn over every rock until we find the source of this and the extent of it," Austin said during a press conference at the State Department.
Meanwhile, US Central Intelligence Agency (CIA) Director William Burns, speaking at Rice University in Texas, called the leaks "deeply unfortunate." However, Burns did not give details on what he said were "quite intense" investigations by the Pentagon and the Justice Department.
Dozens of photographs of documents, some of which also point to the US spying on allies and partners, including Israel and South Korea , have been circulating on Twitter, Telegram, Discord and other sites.
Many of the documents are no longer available on the social media sites where they first appeared, and the United States is reportedly working to have them removed.
Austin spoke with South Korean Defense Minister Lee Jong-sup to discuss the documents. The leaks reportedly detailed US surveillance Seoul and revealed South Korean reservations about providing munitions directly to Ukraine.
Kim Tae-hyo, a deputy national security director, told reporters that the two defense chiefs agreed that a "considerable number" of the documents were fabricated.
The fallout from the apparent leak could be significant, potentially putting US intelligence sources at risk, while giving the country's foes valuable information.
Holger Becker, a member of German Chancellor Olaf Scholz's Social Democrats (SPD) who also sits on the parliament's committee for digital affairs, told DW that it would be "naive" to think there is no "mutual intelligence gathering" between the US and its allies.
He said that the leak was "more of an embarrassment" for Washington and would not "damage existing relationships."
Becker said that it is not known where the leak came from. He said that some documents were genuine, while others were "obviously tampered with," and for some documents it was not clear if they were fake.
The SPD lawmaker said that the documents did not contain "significant surprises" regarding the state of Ukraine's military. He added that "everyone has known that the ammunitions situation is pretty dire."
"I don't think it will add increasing pressure on Germany and other allies [of Kyiv]," he said. He argued that the most important question was how to "safeguard deliveries" and improve logistics.