Tania Saleh is not generally known for mincing her words, whether in casual conversation or in song. "You come to a point in your life where you just can't hold back anymore — you need to say what's on your mind, regardless of the consequences," she says of her new album, the deeply confessional "10 A.D." (which stands for 10 Years After Divorce).
The veteran Lebanese singer/songwriter is a pioneer of the Arabic alternative-music scene, with an illustrious career spanning more than two decades, and speckled with both compelling studio releases and diverse collaborations.
As its title reveals, the LP is driven by Saleh's decade-long experience of living in the Arab world as a divorced woman.
"It's about my reflections and observations. How I've been dealt with, how society looks at me, and how I've looked back at it," Saleh says as a preface to her no-holds-barred chronicle of the life of divorcées across the Middle East.
"The way that men see a woman after divorce is basically as fair game — like you're willing to settle for anything and be with anyone," she explains. "This is, of course, horrible. It's a demeaning and humiliating way to treat women. To be honest, at the beginning, I was very angry when approached by men in this way. But then I understood that it's part of a wider problem, especially in the social and economic context of where and how we live."
Her native Lebanon has, for the past 18 months, spiraled through a caustic mixture of socio-economic and political crises, compounded by decades-long governmental corruption and the COVID-19 pandemic. Saleh points out that this backdrop has served to exacerbate the lives of women in the small Mediterranean nation and the choices they make.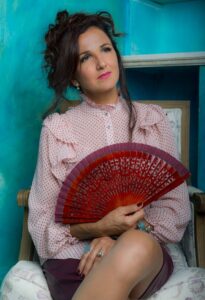 "Because of Lebanon's problems, a lot of men have left to work abroad, leaving many women either single or unmarried or separated from their partners," she says. "As a result, you see beautiful, talented, educated women settling for a lot less than what they deserve. This happens all the time.
"And so," the singer declares somberly, "it almost becomes a self-fulfilling prophecy. I wanted to address the absurdity of that whole situation on this album."
"10 A.D." is Saleh's fifth LP and her third on Kirkelig Kulturverksted (KKV), the Norwegian label founded by producer and lyricist Erik Hillestad in 1974. The album is part of a long road she has taken to get here, and brings Saleh's musical evolution full circle — especially since embarking on a painstaking path of essentially reinventing herself.