Akar discusses with Irish counterpart ways to support Army and security services, assist Lebanon out of crisis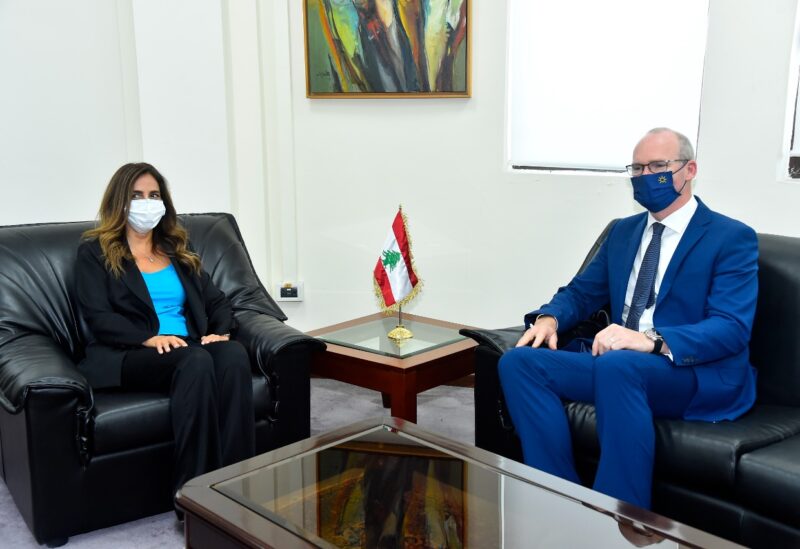 Deputy Prime Minister, Caretaker Minister of National Defense, and Acting Minister of Foreign Affairs and Emigrants, Zeina Akar, received the Irish Minister of Foreign Affairs and Defense, Simon Coveney, and and accompanying delegation, in the presence of Irish Ambassador to Lebanon, Sean O'Regan, and Honorary Consul of Ireland in Lebanon George Siam.
According to reports, the conference focused on bilateral ties as well as methods to expand collaboration mechanisms in a variety of disciplines. It also addressed the circumstances of Irish personnel working within UNIFIL.
Conferees discussed the political, economic and social conditions in Lebanon, in light of the current crisis, and dwelled on the support offered to the Lebanese army and security services under the most recent army support conference.
In light of Lebanon's economic and financial crises, Akar emphasized the "distinguished links between Lebanon and Ireland," emphasizing "the significance of supporting the army and security forces, as they form a factor of stability."
In reply, the Irish minister underlined his country's "readiness to uphold Lebanon, particularly the Lebanese armed forces," calling for the formation of "a government as quickly as possible in order to undertake reforms and find rapid answers to the current issue."