In its daily report on the COVID-19 developments, the Ministry of Public Health announced on Friday the registration of 497 new infections with the Coronavirus, which raised the cumulative number of confirmed cases to-date to 1,087,387.
The report added that 5 deaths were recorded during the past 24 hours.
The number of citizens that received the first dose of Covid-19 vaccine has reached 2,661,173 and the number of citizens who received the second doze is 2,322,422, and the number of those who received the third doze is 554,223.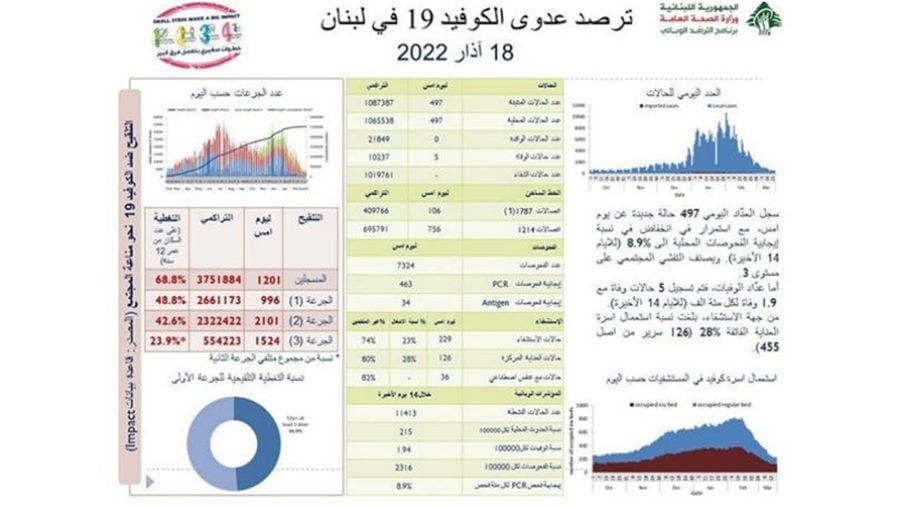 In its daily report on the latest COVID-19 developments on Friday, Rafik Hariri University Hospital registered 5 critical cases and no  deaths.
Number of Vaccines administrated in the COVID-19 Vaccine Center: Pfizer 42, Moderna: 79
– Number of examinations conducted in the hospital's laboratories during the past 24 hours: 146
– Number of patients infected with Coronavirus currently in the hospital for follow-up: 9
– Number of suspected cases of being infected with Coronavirus during the past 24 hours: 1
– Number of recovered patients in the hospital during the past 24 hours: 2
– Total number of recoveries at the hospital to-date: 1663
– Number of cases transferred from the intensive care unit to the isolation unit after improvement: 0
– Number of critical cases inside the hospital: 5
– Number of death cases: 0
The report also reminded that the Covid-19 Vaccination Center at the Rafic Hariri University Hospital remains at the service of citizens Monday to Friday.