Mikati meets President Jinping during Arab-Chinese summit in Saudi Arabia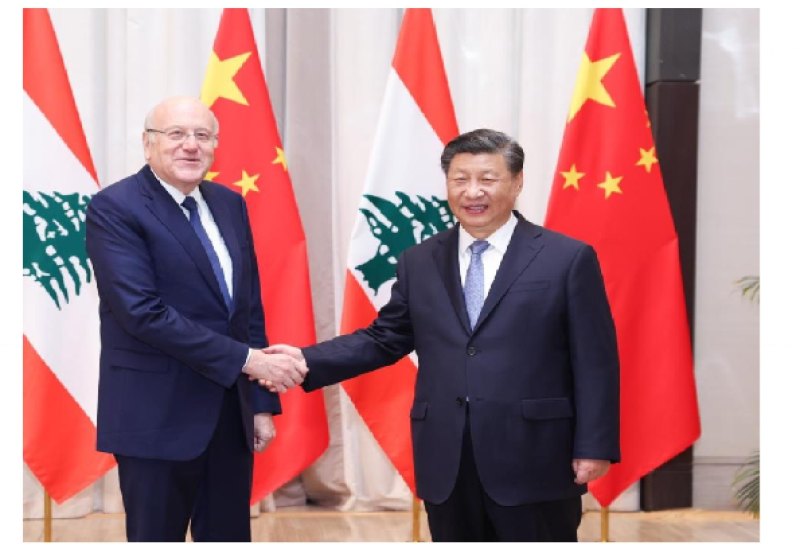 Prime Minister-designate Najib Mikati met at his residence in Riyadh, with Chinese President Xi Jinping, during the Arab-Chinese summit hosted by the Kingdom of Saudi Arabia on Friday.
The meeting was attended by: caretaker Minister of Foreign Affairs and Expatriates Abdullah Bou Habib, caretaker Minister of Finance Youssef Al-Khalil, caretaker Minister of Industry George Boushkian, Advisor to President Mikati, former Minister Nicolas Nahas, Ambassador of Lebanon to Saudi Arabia Fawzi Kabbara, and Ambassador of Lebanon to China, Melia Jabbour.
During the meeting, the Chinese president said that his country "appreciates Lebanon's positive contribution to strengthening cooperation between Arab countries and China," adding that China is interested in developing cooperation with Lebanon in the economic and social fields, and continues to support Lebanon, especially in the field of renewable energy.
In turn, Mikati thanked China for its effective contribution over the years to protecting stability in southern Lebanon through its active participation in the UNIFIL forces.
"Lebanon is looking forward to more Chinese investments in Lebanon, especially in the field of infrastructure, in which China enjoys with extensive experience," Mikati added.
He also expressed his desire to open Chinese markets in front of Lebanese handicrafts, thanking China to grant them funding to build the National Institute of Music.