President Aoun from Rome: Lebanon will continue to serve as a model for coexistence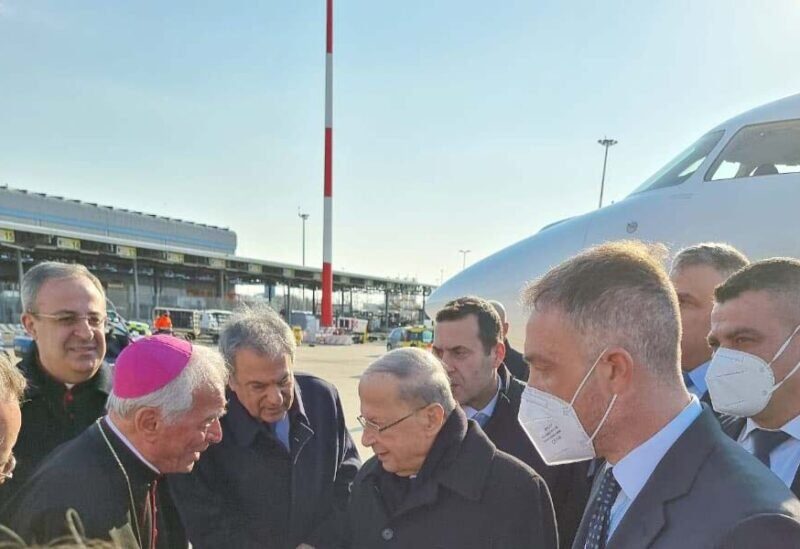 General Michel Aoun, the President of the Republic, stated upon his arrival in the Italian capital, Rome, that he is bringing Pope Francis "a message of love on behalf of the Lebanese and renewing the invitation to visit Lebanon in order to restore to him hope for the start of the recovery process."
"Christianity in Lebanon is not in danger," Aoun said, adding, "I look forward to this visit as a ray of hope to confirm that Lebanon is not fading and will remain, despite the difficulties, a model for coexistence."
At 2:00 p.m., Aoun departed Rafik Hariri International Airport for Rome and the Vatican, where he will meet Pope Francis on Monday.
President Aoun will also meet with the Secretary of the Holy See, Cardinal Pietro Parolin, Secretary of the Vatican City's Secretary for Relations between Countries, Monsignor Paul Richard Gallagher.
The official delegation accompanying President Aoun includes Minister of Foreign Affairs and Emigrants Abdallah Bou Habib, and the Lebanese Ambassador to the Holy See, Ambassador Farid Elias Al Khazen.
On Tuesday, President Aoun will visit Italian President Sergio Mattarella at the Quirinal Palace to discuss bilateral relations between the two countries and ways to develop them in all fields.