Spiritual leaders to Guterres: "We are committed to the values of openness, tolerance and coexistence"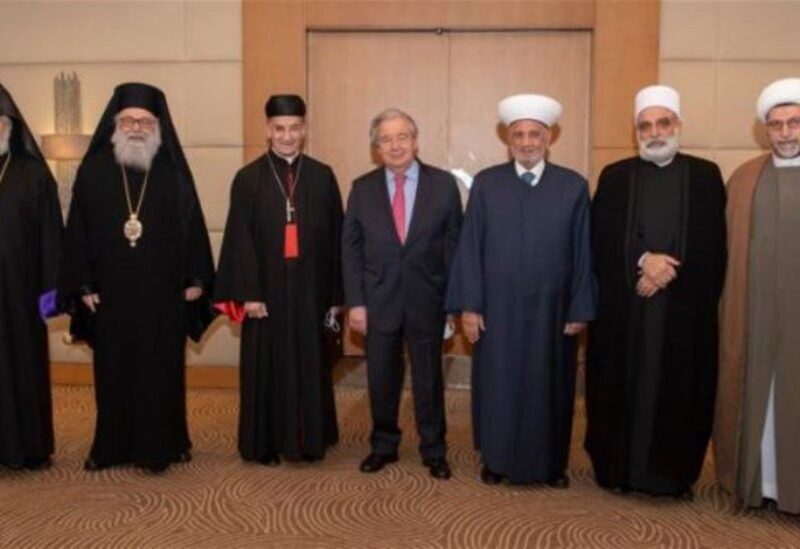 The Maronite Patriarch Cardinal Mar Bechara Boutros Al-Rahi, along with the Grand Mufti of the Lebanese Republic Sheikh Abdel Latif Derian, Judge Sheikh Mahdi Al-Yahfoufi, representing His Eminence Sheikh Ali Al-Khatib, Vice-President of the Supreme Islamic Shiite Council, Greek Orthodox Patriarch John Yazigi, Sheikh Akl of the Unitarian Druze sect Dr. Sami Abi Al-Muna, and the Armenian Orthodox Catholicos Aram I Kechichian met today with UN Secretary-General Antonio Guterres during his visit for Lebanon.
The participants affirmed their commitment to the values ​​of openness, tolerance and coexistence as the core of Lebanon's identity and stability.
They stressed the importance of preserving these values, which are at the core of faith, especially in this critical phase, which is witnessing a financial, economic and social meltdown.
The participants expressed their willpower to focus on what unites Lebanon and its people, encouraged people of different religions and sects to do the same, and to adopt dialogue as a means to resolve differences in the spirit of consensus and teamwork.
They expressed the common desire among people of all religions and sects to see Lebanon recover and prosper, and they committed to doing everything they could to restore hope to its people.